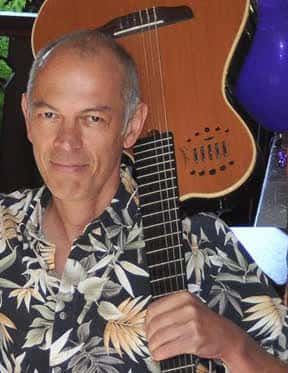 Ami Molinelli & Pablo Rivière
The duo Ami Molinelli & Pablo Rivière will be playing Brazilian popular music (MPB), bossa nova, samba, choro and other jazz-inflected Brazilian musical forms in the spirit of Jobim, Vinicius de Moraes, Elis Regina, Caetano Veloso, Chico Buarque, Dorival Caymmi, etc.
Pablo Riviere is a guitar player and singer specializing in Brazilian music. Check out his current quartet, Samba Cruz, at www.sambacruz.com. Many of his online collaborations with other musicians are posted on that website as well.

His music appeals to a wide range of ages and musical tastes, having performed on many stages including the Capitola Art & Music Festival, First Night Monterey (featured performer), Gilroy Garlic Festival, Cabrillo Music Festival, Mountain View Concert on the Plaza, and more.

He co-founded the Brazilian music quintet Sambosseros in 2001. He played with that group for a decade, and has since been playing with other Brazilian artists for San Francisco Bay Area audiences. Pablo produced Sambosseros' album Gabiroba, as well as the Rivière & Simon duo album Boa Vida (all original compositions).